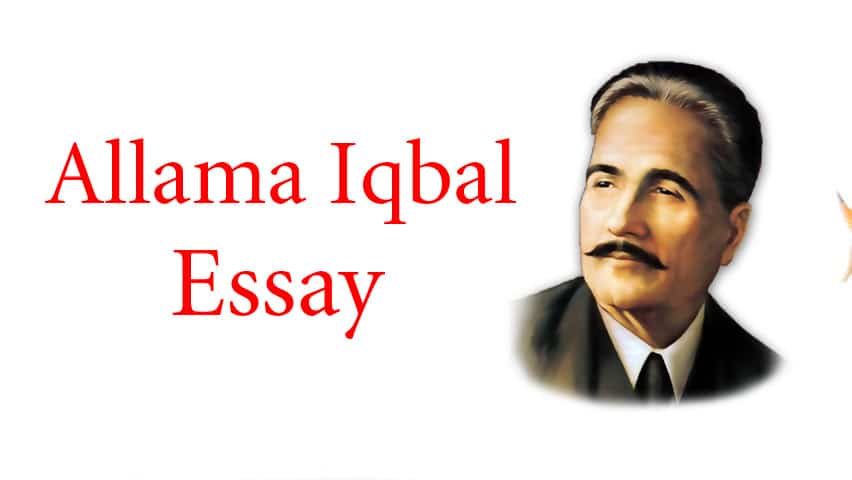 Allama Iqbal Essay
Allama Iqbal " The poet of East"; " The thinker of Pakistan", " The sage of the Ummah" And "National poet" are the titles given to one and the only personality. He is also known as a thinker, poet, Philosopher, Politician, and barrister. He was a visionary and an ideological founder, who saw the establishment of Pakistan as a step towards the sovereignty and independence of a nation of 8 million people. He was he, Who gave a concrete shape to the Muslim aspirations for the first time. He clearly defined the geographical boundaries of Pakistan. He was no other than " Dr. Allama Muhammad Iqbal ".
Birth
He was born on November 9, 1877, in a deeply religious family at Sialkot. His grandfather Muhammad Rafiq had migrated to Kashmir and settled in Sialkot. His father Sheikh Noor Muhammad was a Sufi. Iqbal received his early education in a local school and joined the scotch Mission High school at Sialkot, Where he came under the influence of Moulana Mir Hassan, a Scholar of Arabic, thus he became proficient in Arabic and Persian under the supervision of a Sayed Mir Hassan. After his intermediate from Sialkot, he entered Government College Lahore and graduated in 1877, winning a scholarship and two Gold Medals for proficiency in English and Arabic. At Lahore, he came into contact with Dr.Arnold professor of European philosophy. Professor Arnold detected his hidden qualities. He advised him to develop his poetic talent. Iqbal followed his advice and started writing poetry.
In 1899 he obtained his M.Adegree in philosophy and then he was appointed as a lecturer in History and philosophy at the Oriental college Lahore. Then he proceeded to England for higher studies. He did his Bar-at-law from England. in 1907 Iqbal moved to Germany and he earned Doctor of Philosophy Degree from the Ludwing Maximilian University Munich in 1908.
Iqbal is famous for two religious poems "Shikwa" and "jawab-i-Shikwa".His prose book "ILm-ul-Iqtisad" was published in 1930. Iqbal wrote three books on poetry in Urdu. These are Bang-e-Dara 1924, Bal-e-Jibril 1935, Zarab-e- Kalim 1936. His Poetry work in Persian includes Arsar-e-Khudi 1915, Rumuz-e-Bekhudi 1917, Payam-e-Mashriq 1923 Zabur-e-Ajam 1932, Armughan-e-Hijaz 1938. Iqbal was much worried about the Muslim of the subcontinent. They were being oppressed and depressed in every field of life. He tried to arouse them from deep slumber through his poetry.
Iqbal ceased practising law in 1934. In the last days of his life, he suffered from illness. He died in Lahore on April 21, 1938. His tomb is located in Hazaribagh the enclosed garden between the entrance of the Badshahi Mosque and the Lahore Fort. Iqbal's poetry is full of message for the Muslims. It is full of religion, philosophy, and history. It is the interpretation of the Holy Quran. It evokes a man's ego and urges him to action. It is the essence of his observation and experience. It gives an optimistic approach. He employed all of his intellectual faculties to arise Indian Muslims from their deep slumber of slavery and inaction. He incited them with his verses. He made them realize their glorious past. In his Allahabad address, He clearly earmarked the areas which were to formulate Pakistan. At that time, people called it the dream of a poet or a mad man. Later on, Quaid-e-Azam Transformed this dream into reality and established Pakistan. Pakistan is, in fact, the realization of Iqbal's dream. He said, "I am completely satisfied that the Muslims if India will ultimately have to establish a separate homeland as they could not live with the Hindus in the United States."The sad fact is that he could not live to see the creation of Pakistan which he dreamed as a poet, enunciated as a philosopher and fought as a politician. justice William O'Douglas pays him tribute in these words, Iqbal was a man who belonged to all races; his concepts had universal appeal". Iqbal is immortal. He will live as long as mankind needs the inspiration to fight against oppression, injustice, and slavery.
Share your experience with us about Allama Iqbal Essay in the comment section.
Read More: A True Muslim Essay in English