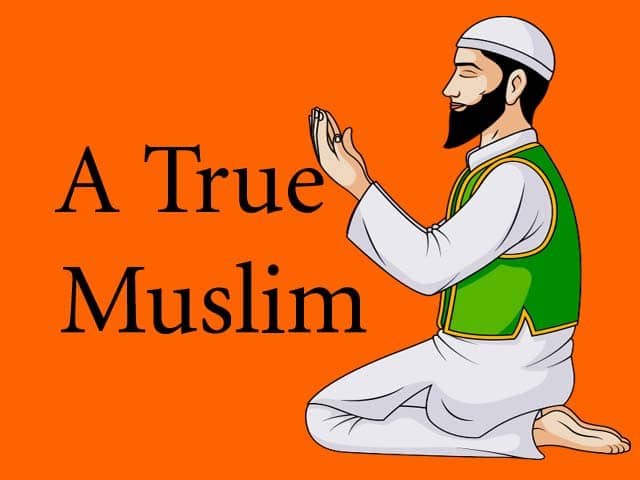 The Holy Prophet (S. A. W) describes a true Muslim in these words;
" A true Muslim is one who does not defame or abuse others; but he becomes a refuge for mankind, their lives and their properties"
To be a good Muslim is true, a great blessing of Allah. The follower of Islam is called Muslim. A true Muslim has a belief in Allah and his last prophet Muhammad ( peace be upon him). He believes that Allah is the light of heaven and earth. It is his faith that Allah is the Creator of everything in the World and is the lord of the Day of judgment. He believes that Allah is aware of his doings and actions. He morally bad or wrong behaviour avoid because he knows that he will be held answerable for his deeds.Those who trust Allah never lose hope and does not do anything wrong. It is his belief that Allah is alone. The Holy Prophet Muhammad (S. A. W) describes the true Muslim in his sermon as;
" Blessed is he who earns his living through lawful ways and he whose inward status is good, outward is decent; spends his surplus wealth in charity; abstains from excessive talking; people remain safe of ( any ) evil from him; he treats others with justice. Surely whoever believes in Allah fears Him, and whoever fears Allah guards himself against the evil of this world."
A true Muslim leads a simple and wants to live a pure life. He wears simple clothes. He strictly follows the commandments of Allah as mentioned in the Holy Quran;
"Purify your garments and shun uncleanness."
He earns his livelihood through honest means and is contented with it. He controls his desires. He does not beg for worldly things. He does not bring down his self-respect. He invests his life according to the teachings of Islam. He devotes his life to help others in time of need and adversity. The Holy Quran highlights it as;
" Do good to others, definitely, Allah loves those who do good to others."
He always bows his head before in all the matters of his life. He condemns evil ways of aggression.
" Help one another in good and righteous works, and do not help one another in sin and hostility."
He recites the Holy Quran and feels great joy. He gives alms to the poor. He is good at heart. He is not afraid of anything except Allah and does not what is right. He offers prayers regularly, keeps fast, gives Zakat and performs Hajj. He believes in the Day of judgment and the life hereafter. A true Muslim has regard for his neighbour and relatives. He never does anything that goes against their matters. He respects their rights. He shares their joys and sorrows. He is interested in their welfare and happiness. He does his best to help them whenever he can. He is always prepared to sacrifice his own interests for the sake of his neighbour and relatives. The Holy Quran mentions it as;
"Give to the near relative his due, and also to the needy and to the traveller.
He is well-behaved. He is graceful in everything that he does. He tries to be sweet to others. He has a smile on his face while dealing with others. Holy Propet Muhammad (S. A. W) says;
"It is an act of charity to meet your fellow with a cheerful face."
A true Muslim seeks knowledge and acts upon it. He leads a life of diligence, discipline and deep study. knowledge is obligatory in Islam. A true Muslim learns from the lap of his mother to his grave. He is always broadminded. He ponders over the secrets of nature. He studies diligently to understand the true spirit of Islam. Allama Iqbal expressed this in these words;
" I have given the best part of my life to careful study of Islam, its law and policy, its culture, its history and its literature". (Muhammad Iqbal)
He educates his children well and develops them into good citizens. He tries to create a healthy atmosphere in his family. he solves his problems in a very intelligent manner. He is clean and pure in thought and deeds. There is no difference between his action and preaching. He is fearless and courageous. The life of a Muslim reflects the true spirit of
Islam. A true Muslim is neither a miser nor a spendthrift. He maintains the balance between these two extremes. He is thankful to Allah in prosperity. He shows patience in adversity. He knows that the joys and sorrows of this world are temporary. He knows that the purpose of his life is to please Allah. A true Muslim takes great care of the rights of his fellow beings. He does not deceive others. He always speaks gently and politely. He is sincere, true and kind at heart. He wins to the hearts of others by his good dealings. He always fulfils his promise. He is an optimist by nature and never worries himself over trifles.
He often prays to His lord,
"Oh Allah, bless us in this worldly life as well as save us from the hellfire in the hereafter (Ameen)
He is a man of rare qualities of head and heart. He is a symbol of integrity and honesty. Even his worst enemies admit that he is a man of principles. He is reliable, loveable and sociable. He guides and direct his fellow beings to do the right. Consideration for others is the main aim of his life. In short, he provides himself to be what a true Muslim should be. Another quality of such a person is that he is humble, free from any sort of pride and arrogance. The Holy Prophet (S. A. W) says;
" The best amongst you is the one whose manners are the best"
He walks humbly, talks humbly, and behaves humbly hence humbleness is a part of his life. In short, a true Muslimpossesses all the positive and constructive qualities. He is beneficial and useful to his family, society and humanity. The Holy Quran highlights true Muslims in these words;
"You are the best of people evolved for mankind, enjoining what is right, forbidding what is wrong"'