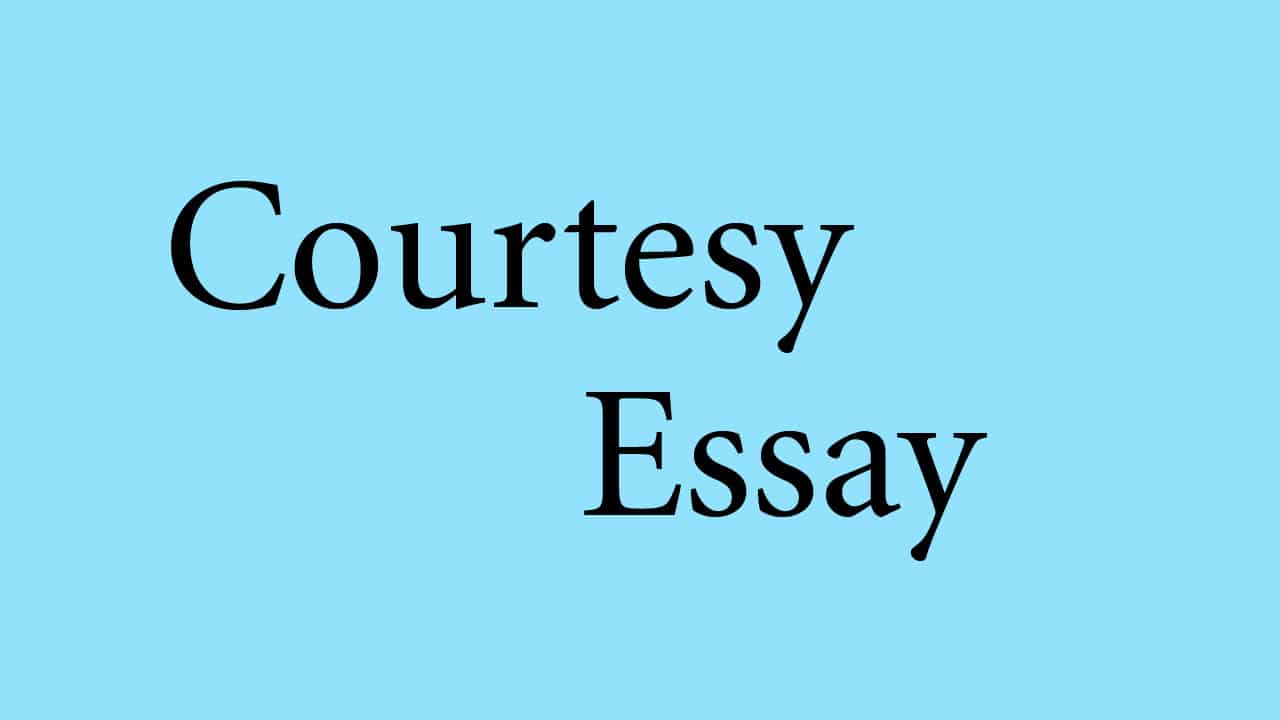 Courtesy Essay-Courtesy Essay-Courtesy Essay
"COURTESY COSTS NOTHING, BUT BUYS EVERYTHING"
Courtesy and pride is a word which has comprehensive meanings. Courtesy means "use of excellent, gentle and politeness in his behavior while dealing with others and the person who shows such behavior, is called courteous man" A courteous person has tender feelings and good wishes. He is always polite and pleasant to others. He never behaves harshly and does not injure anyone,s feelings. Christian Nestell Bovee declares it's uniqueness in the following words;
CHRISTIAN NESTELL BOVEE DECLARES IT'S UNIQUENESS IN THE FOLLOWING WORDS;
Courtesy deals with manners. Good manners spread love, affection, and kindness and win others'hearts and make sincere friends. Courtesy brings decency and politeness. It nourishes good wishes for others. A courteous person bears good manners for others. He is pleasant and polite to everybody. Francis Bacon highlights this concept in the following words; ''If a man is gracious and courteous to strangers, it shows he is a citizen of the world" Ralph Waldo Emerson declares;
" LIFE IS SHORT, BUT THERE IS ALWAYS ENOUGH TIME FOR COURTESY"
There are golden words for this concept: "Think good, wish good, speak good and do good" Courtesy is a sacred emotion. It is a great blessing and endowment of Allah Almighty. A courteous person is liked and loved by all. A courteous person remains very popular among his friends and relatives. The well- behaved courteous people are the foundation of a good society and nation.The Holy Prophet (SAW) says:
"THE BEST AMONGST YOU IS THE ONE WHOSE MANNERS ARE THE BEST"
The saying shows the importance of courtesy. The Holy Prophet (SAW) himself showed a high degree of courtesy throughout his life. The Holy Prophet (SAW) gave great importance to courtesy. The Holy Prophet (SAW) condemned irrational attitude in these words; "Do not inflict injury, nor repay one's injury" A courteous person always shuns bad ways and follows the right one. Men have been created for perfection. The Holy Quran exhorts in these words;
"YOU ARE THE BEST OF PEOPLE EVOLVED FOR MANKIND, ENJOINING WHAT IS RIGHT, FORBIDDING WHAT IS WRONG"
A courteous man is kind and polite to everyone. He adopts good and decent manners all the time. He always respects of feelings of others. He never teases or disturbs anybody. Hazrat Ali (R.A) says; "Meet others with smiling face, It is the very first good to others. courtesy earns good social and mutual contacts. When we say to others "salaam" it means "May Allah keep you in safety" In fact, we pray for the safety of the other and get the same in return. If we have good wishes for others, naturally others will also regard our sentiments and feelings. A courteous person earns great fame, even without spending a penny.
"THE GRACE OF GOD IS COURTESY''
It teaches us great values. It teaches us to be ready to help others. It encourages us to join hands with those who may be in trouble. They may be sick, old or depressed. Aristotle has said: "The goodness of good man shines through his deeds" We should not bear malice and ill-will in our hearts. We should work for the betterment of others. We should develop friendly and cordial relations with others. This is possible only through soft and polite conversation. There is a French Proverb:
"TO SPEAK KINDLY DOES NOT HURT THE TONGUE"
The elders, the seniors, and parents should act as a role model of courtesy for the youngsters and children. Teachers can play an important role in making people courteous. The value of courtesy must be kept at the priority level in educational institutions and offices.
"COURTESY IS AS MUCH A MARK OF A GENTLEMAN AS COURAGE"