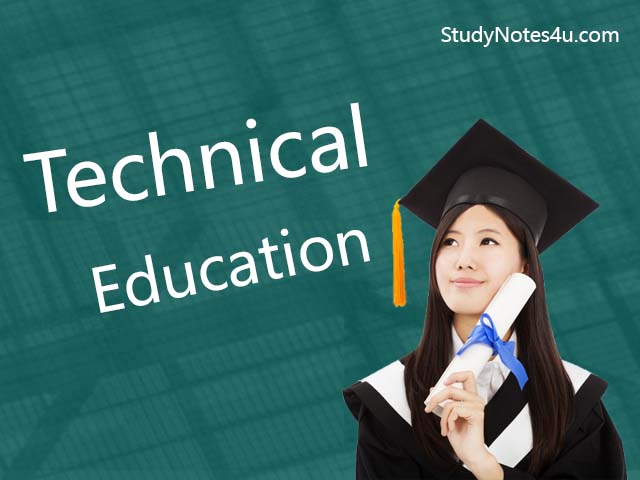 "Education is a better safeguard of liberty than a standing army."

(Edward Everett)
Modem civilization is dominated by science and scientific development. That is why technical education has been in demand. In the earlier days, education was meant for spiritual cultivation. The main purpose of education was to discipline our emotions and our thinking, and by doing so, it made us fit for a proper type of social life. Gradually education became broader in its embrace and more important in organizing society. Many politicians made use of education for propagating their ideologies. As in Russia and China of yesterday, some of the sayings of individuals were taught in schools and colleges. The young minds were filled with several thoughts which matched to their aim. But, nowadays, education is becoming more and more job-introduced. That's why education is gaining more and more importance.
Technical training gives us skills so that we enable to handle the machines properly As has already we have told before, technical education makes an expert in different fields of life. There are a large number of jobs that cannot be properly performed until technical knowledge is not acquired.
In many countries like Pakistan, technical education is very essential. It is not possible to make industry the important basis of the economy as we have envisaged without making arrangements for technical education. That is why a large number of engineering colleges cater to this type of education. In this respect, it should be kept in mind that arrangements for absorbing technical men should be made. Bookkeeping
"Tech gives the quietest student a voice."

(Jerry Blumengarten)
Moreover, industries should be set up every year. But this process cannot be long-lasting. At one or the other stage, they will have to reduce the number of those who get technical education so that there may not be unemployed among the technical people. It is generally said that technical men can never remain unemployed because they shall have their own industries but it is true in theory only. In practice, it requires a good market to sell the finished goods. It is not possible to give these two things to all the technical men.
In one of his essay, Russel tells us that technical education makes the people inhuman and purely objective. They look at the problem completely from the technical point of view and their thought becomes cold and calculating. This is maybe one of the defects of professional education.
Technical education makes human beings machines but when it is tempered with liberal education, it becomes more wholesome and beneficial. Liberal education not only makes us cultivate our affection but also develops our thinking. Besides it, technical education should be a part of training after completing education and should not be an education in itself. Technical education is more or less practical whereas education is somewhat different from learning the skill.
Education is all the more important to develop the edifice of the nation, to mould the national character, to inculcate sense of duty with the people, to foster discipline and to develop the country on modern lines. Education promotes national welfare and personal happiness. if we want to go for away to save our freedom, to see democracy flourishing and earn respect in the amity of the nations, we must be well educated and well-informed, otherwise, we are just joking with ourselves and with our freedom.
Technical Education provides information and training of skills to deal with tools and machines used in all fields of life. Its main objective is to produce stilled workers for better performance at their job places. They are trained to set up and use modern technology in their professions. It enhances not only personal skills but also job opportunities of the people. It ensures self-respect and dignity of labour in society. Technical Education also helps to free society from unemployment, child labor, street crime, begging and other social evils.
"Honor lies in honest toil."

(Grover Cleveland)
In the present age of science and technology, vocational and technical education is very much important to meet the need of the time. Technical experts are needed to run and maintain machines and tools in every sphere of life. The economic prosperity of our country also depends upon its skilled workers. The rapid economic growth is only possible with the use of computer technology of modem hardware and software. It needs qualified technical experts to set up and run modern technology in the fields of trade, commerce, agriculture and industry.
In this age of the global market, our agricultural and industrial products do not meet international standards of quality. It is due to outdated technology, non-technical staff and unskilled labour in all fields of life. Our educated
people are unable to get good jobs not only in Pakistan but also abroad because they lack technical expertise. As a result, there is great distress among educated people in the country.
Technical Education can also help to solve the problem of unemployment in our country, A comprehensive plan of vocational and technical education should be introduced at the national level. It should be started at the higher secondary level. The youngsters should be guided and motivated to understand the dignity of labour and get vocational and technical education meet the challenges of the present time. Especially, women should be encouraged to share the economic burden of the society by getting vocational and technical education. In this way, skilled workers will be able to get jobs easily. They can also manage their own setup and earn their bread.
Liberal Education, no doubt, is necessary for intellectual, spiritual and social uplift of a society. But, it does not meet the needs of the present age of science and technology. The government should realize the situation. Our education system should be modernized to ensure spiritual enhancement as well as the economic prosperity of the society. Along with liberal education, vocational and technical education should also be focused. The image of Pakistan cannot be made better without economic prosperity. It is possible through vocational and technical education. We will have to give honour to manual workers and dignity to labour.
"No work is insignificant. All labor that uplifts humanity has dignity."

(Martin Luther King Jr.)
Read More: Allama Iqbal