Parts of Speech there are eight main parts of Speech almost all Worlds in English have been classified into the eight parts of Speech
1 Nouns
2 Pronouns
3 Adjective
4 Verb
5 Adverb
6 Conjunction
7 Preposition
8 Interjection
The 8 types are called "parts of speech" and each parts of speech has a specific use and function and in this lesson we will look at each of the parts of speech
Noun: A Noun is a word that means a people, place, thing, object, animal, idea, or feeling.
So if you just open your eyes and look around you at everything the Words for everything you see they are nouns For Example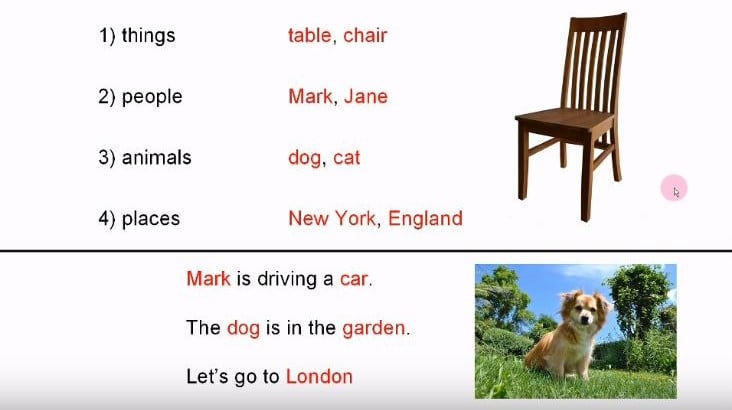 Pronoun: is a word which is used in place of, or instead of, a noun
Sometimes, We do not want to use a noun. So we use a pronoun.For Example Mark is in Kitchen. He is cooking.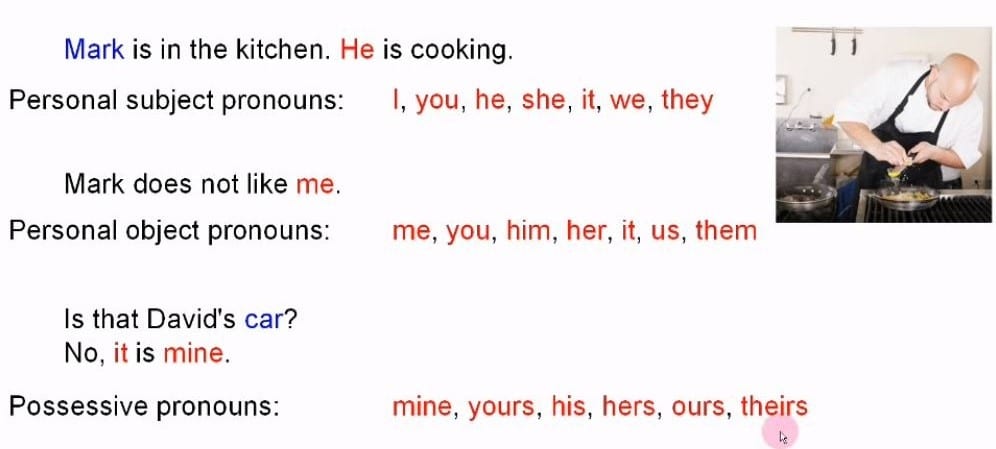 So here We can see Mark this is a noun and he's in the Kitchen but for the second sentence we don't want to repeat the work Mark because it does't sound very good so we replace the word Mark with he so that is an example of pronoun it represents a noun and he is in fact an example of a personal Subject pronoun and the others are I you he she it we and they Mark does not like me okay so my name is Andrew but perhaps in this sentence we don't want to say my name we just want to refer to me so this is an example of a personal object pronoun and it's describing a prson here are all the personal object pronouns me you him her it us and them is that David carr no it is mine so in this sentence we have we have two pronouns we have it which is a pronoun and it is referring to the cart replacing the car and it is mine is also referring to the car and it expresses possession it is telling us who the car belongs to who owns the car but it is replacing the word car and we call it a possessive pronoun and here are the others mine,yours, his,here,ours,theirs so these are some examples of pronouns but of course there are many other pronouns
Adjective: are words that describe noun or pronoun.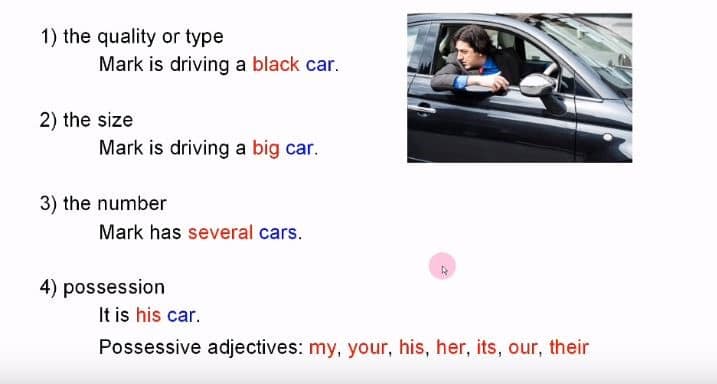 So I ejected they give us more information about a noun or pronoun they modify a noun or a pronoun for example they can tell us the the quality of the noun or perhaps the type of noun mark is driving a black car so car is the noun the object and the word black is telling us more information about the car this is describing the car it's not blue car it's a black car nonobjective can also describe the size mark is driving a big car or perhaps the number or the quantity mark has several cars possession it is his car okay so this is telling us that the car belongs to mark this is telling us the possession and the possessive adjectives are my,your,his,her,its,our, and their okay.
Verb: are words that show an action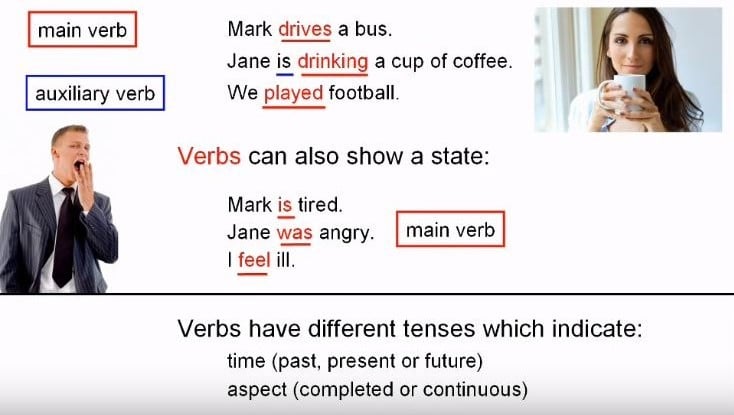 For Example
Mark drives a bus. drives is an action to drive.
Jane is drinking a cup of coffee.
We played football. played is an action
This is an example of the verb in the past Tense we played football Verbs can also show a state for example mark is tried so this isn't not an action it is describing an emotion or the state of mark Jane was angry I feel ill so it describes the state of often the subject we can see so we're describing the state of mark who is the subject of sentence
Verbs have different tenses Which indicate:
time (past, present or future_
aspect (completed or continuous)
Adverbs: An adverb modifies the meaning of a Verb, adjective, or another adverb.
Mark is running quickly (adverb of manner)
Jane never drinks coffee. (adverb of frequency)
We will go tomorrow (adverb of Place)
So Mark is running quickly. quickly so here is the verb running that is the action and quickly is describing the action it is giving us more information about the action and here this is an example of an adverb of manner
Jane never drinks coffee this is an adverb describing the verb drink and it is adverb of frequency.
We will go there tomorrow. so there is an adverb of place it is describing where we will go.
Adverbs can also describe or modify other adverbs: So here is the same sentence Mark is running quickly. so we have the verb running the adverb quickly is describing running and now we can add another which describes quickly. Mark is running very quickly. So very is another adverb Which is modifying quickly and together both of them very quickly they are describing the action and finally
Adverbs can also describe or modify adjectives:
Mark is tired. > Mark is very tired.
here is the adjective tired. and we can say mark is very tired so here the adverb is describing the adjective tired very tired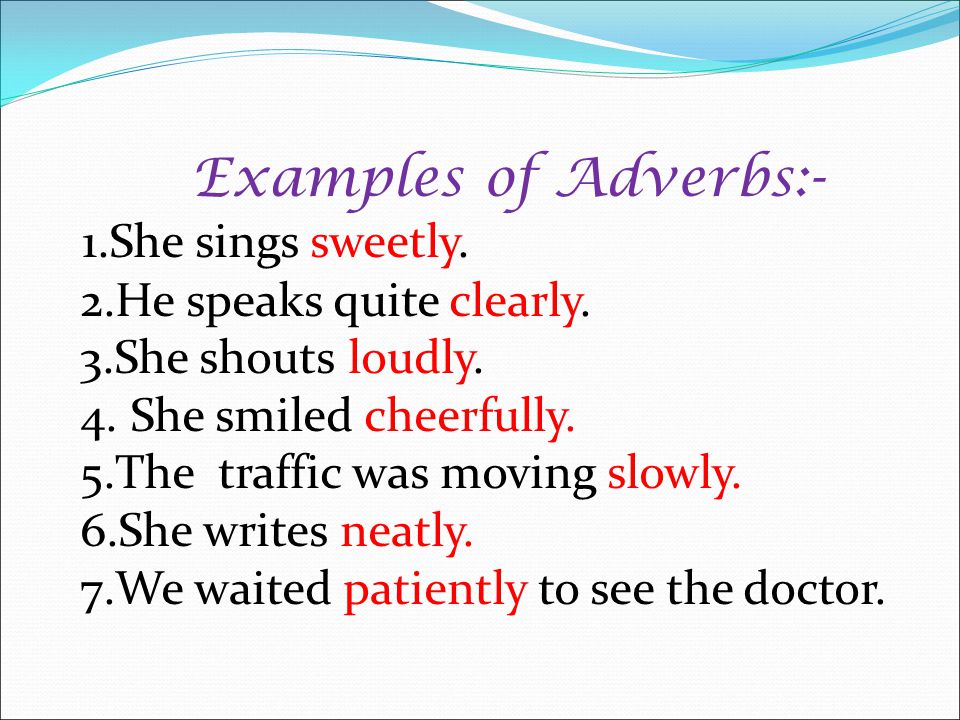 Conjunction: A Conjunction is a Word which join two related, but separate, sentence as one lone sentence.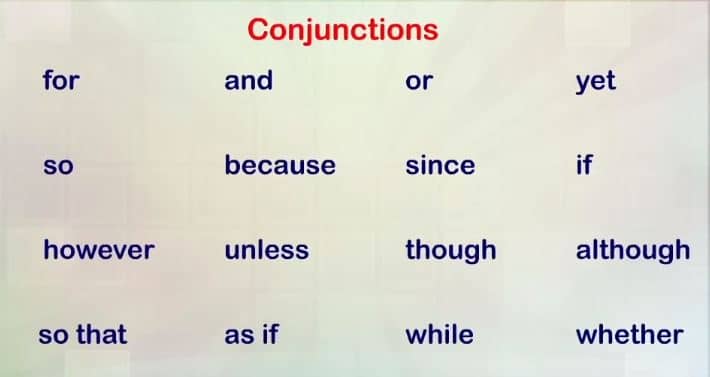 For Example: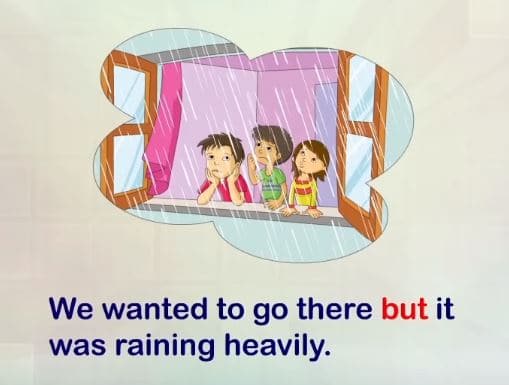 Prepositions: A Preposition is a word which shows the relation between the noun or pronoun an other words in the sentence.
Preposition means " place before" and that is because the preposition is